Please note the following is an original article from the Maryville Alcoa Daily Times viewed here.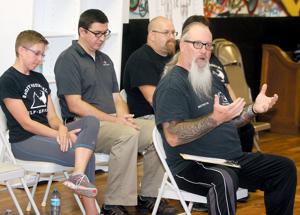 Posted: Thursday, September 24, 2015 12:00 am
By: Mike Gibson mikeg@thedailytimes.com
Though it may have some of the trappings of a martial arts school, Roy Shields says his Smoky Mountain Self Defense organization is, in truth, "a school of self-empowerment."
"This is about not being a victim ever again," Shields said at a Monday meeting hosted by SMSD at Alnwick Community Center. The meeting saw Shields announce an ambitious plan to turn his school into a nonprofit outreach, teaching self-defense skills and strategies to people who are especially vulnerable to violence and crime.
His goal, he said, was to create a practical, accessible self-defense system, with a special eye toward helping vulnerable populations — women, children and teens.
Now SMSD is faced with the loss of its home and other challenges, and Shields is pitching a novel idea. He wants to turn Smoky Mountain Self Defense into a nonprofit organization, and solicit community partnerships in order to make classes even more available, and affordable, to the people he is seeking to help.
Shields introduced these ideas at Monday's meeting, which drew more than 80 people, including Blount County Mayor Ed Mitchell and guest speakers Gary and Deena Christian. The Christians are the parents of Channon Christian, a young Knoxville woman who was brutally raped and murdered, along with boyfriend Chris Newsom, after a carjacking incident in 2007.
It was a powerful gathering, with community members crowded into the dusty, cluttered room where SMSD classes are held, listening to Shields and his six assistants tell harrowing personal stories of how they overcame fear, violence and sexual abuse.
"I'm Roy Shields, and I have a past," Shields said, explaining the open-arms policy of SMSD. "Here, everybody has a past.
"This is a ministry," Shields continued. "It's an outreach. We're sharing our lives, and we want you to share in what we do — empowering others, helping the broken, helping people who feel they have no worth."
Shields is no stranger to making-do under difficult circumstances. He related that early SMSD classes were held outdoors, for lack of a permanent facility. Then he found a home for the school at Alnwick Community Center, where SMSD has existed for the past few years.
Now, due to deteriorating conditions at the aging facility, Shields said SMSD will have to leave. "On Oct. 14, I'm gathering up my people, and we're walking out that door," he said.
To ensure the future of the organization, Shields said he is planning to create a 501(3)c nonprofit with Smoky Mountain Self Defense. He's also seeking business and community sponsorships, whereby participants will receive SMSD banners.
He said he is also working to make his self-defense classes even more affordable. Right now, courses cost between $30 and $55 monthly, with some discounts available.
Toward that end, he's trying to implement a scholarship program, whereby local organizations can sponsor needy children who wish to take classes at SMSD.
"In a month, we don't have a home to go to," Shields said. "But we are not going to let this die."
For more info on Smoky Mountain Self Defense and its programs, visit smokymountainselfdefense.com, or call 865-977-7837.